YouTube Settings consente di configurare l'esperienza utente su YouTube al meglio.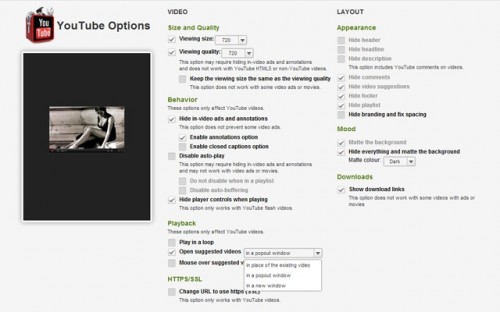 Sul Chrome Web Store esistono molte estensioni che consentono di agire su delle impostazioni di
YouTube
altrimenti non accessibili.
Di recente è comparsa un'estensione chiamata YouTube Settings, la quale si propone come un'alternativa facile da configurare e con moltissime opzioni per personalizzare il portale video più famoso al mondo.


Dopo aver installato l'estensione sarà possibile accedere ad una grande varietà di opzioni divise in categorie come Size and Quality, Behavior, Playback, Appearance, Mood e Downloads. Queste opzioni permettono di impostare la qualità di visualizzazione di default, permettono di nascondere specifici elementi, di aggiungere uno sfondo nero e molto altro.
► SCARICARE VIDEO DA YOUTUBE ONLINE
Per iniziare cliccate l'icona di YouTube Options posizionata nella barra di Chrome. Da qui potrete abilitare o disabilitare le varie opzioni in maniera molto semplice. Nella prima categoria Size and Quality si imposta la qualità con cui saranno avviati di default tutti i video. L'ultima opzione Show download links aggiunge dei link sotto al video dai quali è possibile scaricare il video visualizzato in diversi formati quali FLV, MP4, 3GP e WebM.