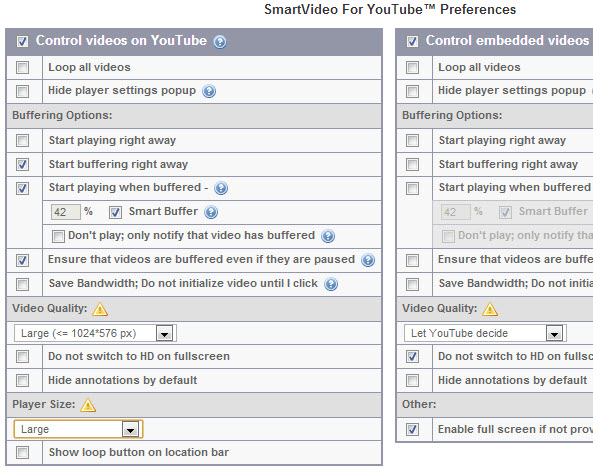 Può capitare a volte di ritrovarsi a guardare un video di YouTube che fatica a caricarsi, impedendo così di visualizzare correttamente il video stesso ed obbligando l'utente ad attendere o a guardare il video a spezzoni.


Ovviamente non è possibile risolvere il problema alla fonte, ma si può intervenire sulla gestione del buffering dei video di YouTube con un'estensione come SmartVideo For YouTube, per il browser Google Chrome.
► SCARICARE VIDEO DA YOUTUBE ONLINE
L'estensione propone le seguenti opzioni:
Loop all videos. (Loop di tutti i video)
Hide player settings popup. (Nascondi il popup delle opzioni del player)
Start playing videos right away. (avvia i video subito)
Start buffering videos right away. (avvia il buffering subito)
Start playing videos when they are buffered and define a buffer percentage as a threshold. (avvia i video quando sono caricati e definisci una percentuale di buffer come soglia)
Ensure that videos are buffered even if they are paused. (assicurati che i video siano caricati anche se in pausa)
Save bandwidth by initializing videos only after a click. (salva banda inizializzando i video solo con un click)
Set a specific preferred video quality. (imposta una qualità predefinita)
Do not switch to HD on fullscreen. (non passare ad HD in schermo intero)
Hide annotations by default. (nascondi note di default)
Set the player size. (imposta le dimensioni del player)
Show loop button on location bar. (mostra il pulsante loop sulla barra)
Con queste opzioni è possibile "giocare" con le configurazioni di YouTube, in modo da riuscire a vedere i video nel migliore dei modi.